Welcome

Healing Hands Therapeutic Massage, LLC, located in Cedarburg, focuses on working with people who are experiencing pain or discomfort or who are rehabilitating from an injury. I specialize in listening to my clients in order to get the full picture of their physical health and to understand the nature of the pain or tension they are experiencing. Then I use the knowledge gained to craft a massage that is tailored to meet the needs of each individual client.
Typically, massage sessions take a focused approach, working on the areas experiencing pain or tension as well as on other areas that are most likely contributing to those symptoms. As your therapist, I understand that you want relief when you get off the table and every massage session is devoted to providing that.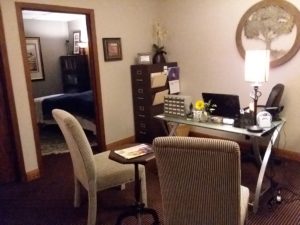 You can expect a variety of massage modalities specializing in Neuromuscular Therapy, Deep Tissue, Sports Massage, and Trigger Point Therapy. Generally the sessions at Healing Hands incorporate a variety of these modalities in order to best meet the needs of each client.
Click on the "Services" page to learn more about the various techniques I use in my work. Also, if you'd like to set up an appointment, click here.
I look forward to serving you.
Elaine Wyler, LMT